The House Mill and the Millers House Café are open to the public on Sundays until the beginning of December. This Sunday we are happy to support ​National Mills Weekend
                                       Opening Hours on Sundays are 11 am to 4 pm
                                   Mill Tours are at 11.30am, 1.30pm and 3.00pm, and the cost is £10/person, which includes the tour itself, an artisan designed/produced guidebook/poster
                                  and hot drink either on arrival or before departure.    The tours take around one hour.
             We do recommend pre-booking if possible, for Mill Tours as numbers per tour need to be limited because of space restrictions in various parts of the building, and  our general H&S guidance around the building.               However, it is also possible to turn up on the day without booking, when hopefully you would be able to join one of the tours, if not full. Email info@housemill.org.uk to book
           The Front of the Mill has recently been refurbished and is looking good for 2023
.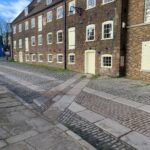 The House Mill is featured in the National Mills Weekend Promotional Video (Around 20 minutes in).  NMW Video 2022
                                         For all other enquiries relating to our site, please email info@housemill.org.uk